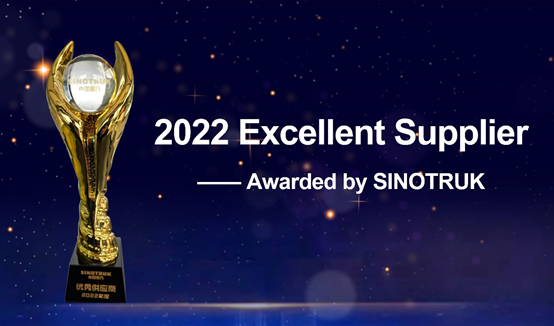 At the 2023 Supplier Conference of Sinotruk held on January 16th 2023, LEOCH SHENZHEN RENEWABLE ENERGY CO., LTD. st ood out from 1, 500 competitors and won the 2022 Excellent Supplier of Sinotruk. Awards demonstrate Leoch battery with recognized performance, excellent delivery service, and commitment to sustainability.
This award not only shows Sinotruk Group's high recognition of Leoch battery brand, but also recognizes the partnership between the two companies.
Leoch and Sinotruk Group have been working together in the field of automotive battery products for 7 years.
Since 2016, Leoch International's share of supplying battery products of all brands under Sinotruk Group has shown an accelerated growth.
Among them, the supporting share of Leoch Heavy Duty Batteries has reached 70% and successfully taken the supporting orders of Sinotruk since August 2022. Orders have been exported to South America, Southeast Asia, Africa, Russia, and other countries with a remarkable growth rate of 60% .
Sinotruk showed strong resilience in the face of adversity, and won the double champion of China's heavy truck industry sales and market share in 2022.
Following Sinotruk's new segment market planning, the application fields of Leoch battery products have gradually extended to long-distance trunk logistics transportation, express delivery, green channels for fresh and live agricultural product transportation, refrigeration, industry and daily necessities, etc., showing a variety of application scenarios.
As the battery supplier of Sinotruk , Leoch insists on strictly following the product development design and process required by Sinotruk , constantly improving its quality system management level, and optimizing battery product design to meet the high requirements of battery performance for diversified scenarios. Leoch Heavy Duty Batteries , for instance, offers optimized options in terms of battery capacity and structure design for the support of SITRAK and HOWO models to completely respond to the needs of consumers and the market.
This award is a recognition of Leoch battery's R & D capability, production capacity and delivery service, and it also inspires Leoch continues to combine its technological innovation and excellent brand service in future cooperation, providing more optimized battery product design solutions for Sinotruk and create more value for customers.
As always, Leoch International will continue uphold our commitment of professional service, abide by the responsibilities of partners, keeping deepen the cooperative relationship with Sinotruk Group to jointly create new achievements in the future!